Looking for an exceptional electric vehicle that combines performance, efficiency, and affordability?
Feast your eyes on the stunning 2020 Chevy Bolt EV LT, available exclusively at
EverythingAuto.com
!
With our specialization in lightly used, amazing EV's, we bring you a remarkable car without the burden of post-COVID fake fees that other dealerships charge.
Ask about how the $4,000.00 Federal tax credit for this car!!! (It's eligible!)
At Everything Auto, we believe in transparency, affordability, and ensuring everyone is 100 percent approved!
Let's delve into the electrifying details and benefits of the 2020 Chevy Bolt EV LT:
Electric Performance: The Chevy Bolt EV LT harnesses the power of electricity to deliver an exhilarating driving experience. With instant torque and a responsive electric motor, this car accelerates with lightning speed, giving you a thrill like no other. Say goodbye to traditional fuel and embrace the future of transportation.
Efficiency and Range: The Bolt EV LT is designed to go the distance. With its advanced battery technology, it offers an impressive electric range that allows you to drive more and worry less. With an almost 300 mile range on a single charge! Say goodbye to frequent trips to the gas station and enjoy the convenience of charging at home or at public charging stations.
Eco-Friendly and Sustainable: By driving the Chevy Bolt EV LT, you're making a positive impact on the environment. This all-electric vehicle produces zero emissions, reducing your carbon footprint and contributing to a cleaner, greener future. Join the electric revolution and drive with a clear conscience.
Affordability: At Everything Auto, we prioritize affordability without compromising quality. The 2020 Chevy Bolt EV LT offers exceptional value for your money, combining an attractive price point with the long-term savings on fuel costs and maintenance. Embrace the financial benefits of electric driving without breaking the bank.
Warranty and Service Agreements: We go the extra mile to ensure your peace of mind. The Chevy Bolt EV LT comes with its factory warranty intact, providing you with reassurance and protection. Additionally, at Everything Auto, we offer full-service agreements beyond the factory warranty, ensuring that your electric vehicle is always in top condition.
Financing Made Easy: Worried about financing? Don't be! At
EverythingAuto.com
, we offer amazing financing options tailored to your needs. Our goal is to make your dream of owning the 2020 Chevy Bolt EV LT a reality. With our straightforward process and commitment to approval, you can drive away in your new electric car with confidence.
Join the green revolution and experience the future of driving with the 2020 Chevy Bolt EV LT. Visit
EverythingAuto.com
today to explore our inventory, browse amazing EV deals, and embark on an electrifying journey. Your dream car awaits, and we're here to make it happen!
Car Features
ABS
Air Bags
Air Conditioning
Alloy Rims
AM/FM Radio
Cruise Control
Immobilizer Key
Navigation System
Power Locks
Power Mirrors
Power Steering
Power Windows
Reversing Camera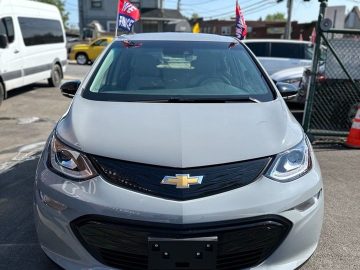 2020 Chevy Bolt LT
Looking for an exceptional electric vehicle that combines performance, efficiency, and affordabili...